At Lotts' we carry several brands of Marine Audio components for all types of situations where water-resistant stereos, amps, or speakers are needed.  Check out these cool ways to rock your boat!
Alpine Marine Audio
One of the brands we carry is the Alpine Marine Audio line of products. Alpine builds marine head units, amps, speakers, iPod controllers, and wireless remote commanders for your boat.  Alpine is one of the most highly respected names in car and marine audio and you will love one in your boat!
Kenwood Marine Audio
Kenwood Marine Audio is another line we carry. Kenwood offers state of the art receivers, iPod controllers, remote commanders and speakers for your wet environment fun.
The model pictured here even includes a water-tight compartment for your iPod – just flip down the front, connect the dock cable and close the door. Your iPod stays protected and all your controlling is done using the big buttons and display – cool, right?
JL Audio Marine Power Amplifiers
We also carry the JL Audio Marine Audio line of PowerAmps that are absolutely mind blowing when it comes to power to size ratio and amazing audio specs. We have been JL fans since the early days and their marine line has kept up the tradition of uncompromising performance.  As mentioned earlier, we also sell Alpine Marine Amplifiers and several other Car Audio Amp brands if your boat has a dry zone where marine amps may not be required.
Sony Marine Audio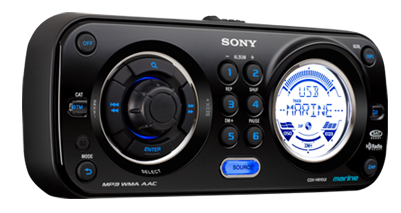 Sony Marine Audio products also offer some really cool options for controlling your boat's stereo system.  Sony has been building marine controllers for years and is one of the most respected brands in the world.  Check out the Sony lineup when choosing your marine audio system.
Pioneer Marine Audio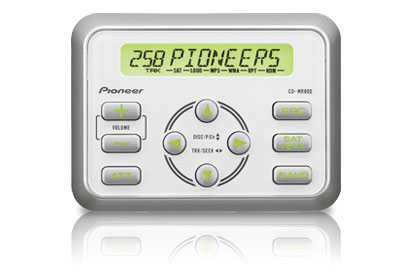 Pioneer Marine Audio products are time tested and we have been installing them in boats for years…uh make that decades!  Pioneer marine speakers are tough, water-resistant and crystal clear.
Pioneer also makes compact marine remote commanders that mount nicely in tight locations and their white finish make them look factory installed in most boats
Whether you have a ski boat, a day cruiser, a sailboat, a wakeboard boat, or just need something that can resist some bad weather, Pioneer's got you covered!
Wet Sounds Wakeboard Tower Speakers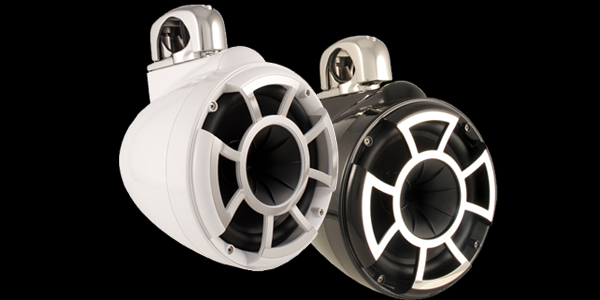 Wet Sounds Wakeboard Tower Speakers is one of the product lines we are really excited about!  When you want to be the loudest boat on the lake, you really need Wet Sounds.  These guys have designed their products with one thing in mind: outrageously loud, high-quality sound that you can hear while tearing it up in the wake.
The Waterproof Stereo Myth…
Ok, let's clear up the term "waterproof" when it comes to electronics: what people commonly call waterproof, really should be called water resistant. By choosing water-resistant "Marine Electronics" you greatly improve your stereo equipment's chances of surviving in a wet environment, but "waterproof" does not really apply here.
Incoming search terms:
marine stereo
kenwood marine
boat stereo systems